Physical aptitude test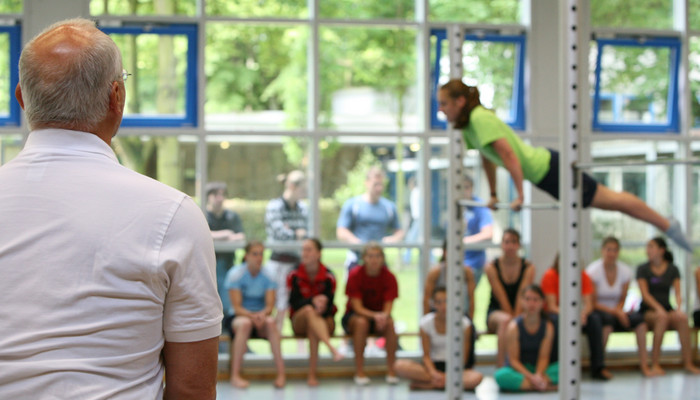 +++ IMPORTANT NOTE:
The next aptitude test will take place in February 2023.
Please see the exact dates, registration information etc. here (German website).
Please also note our Corona information pages regarding possible restrictions and current regulations at GSU +++
Prospective students of the Bachelor´s degrees and the teacher training programme have to complete a physical aptitude test to demonstrate their particular applicability for studies in sport science.
The test itself acts as an assessment of various motor functions and is valid for 3 years. Usually, the test takes place twice a year. The first date is scheduled for early to mid February, the second soon after Pentecost.
To apply please follow the link in the right column. Please note that the application has to be submitted online. The signed application form and other relevant documents have to be sent on time by mail to the Examination Office of the GSU. Only applicants who have their school leaving certificate / high school diploma or who are in year 11 or 12 at school can apply. A doctor's certificate stating that the applicant is healthy and proof of the bank transfer of the application fee must also be included.
For the Physical Aptitude Test 20 individual performances must be completed. The minimum acceptable performance level to be achieved is fixed for every individual performance. If 19 of the 20 individual performance levels are reached, the test is considered to be passed. Hereby, the endurance performance must be achieved in the stipulated time. Should the second performance requirement on the day of the test not be achieved, the applicant is considered to have failed the test. In this case the applicant is required to discontinue the test. This does not apply to high performance athletes, disabled applicants etc. For further information please note the requirements of the test in the right column.
Please note that the physical aptitude test requires a basic understanding of the German language. Instructions and important information will be given in German.