Laboratories & Sport facilities
The Institute for Movement and Neuroscience has three labs for neuroscience, sports medicine and performance physiological studies, and motion analysis. The laboratories include twelve workplaces, three protected examination rooms, an analysis area and a shower and changing area. Part of the basic equipment, among others, are a treadmill, bicycle ergometer, spirometry, blood gas analysis and a testing laboratory with NIRS, EEG, EOG, EMG and ECG.
Moreover, the institute has extensive training and exposure opportunities in the swimming facilities, fitness facilities, gyms, an athletics hall, and an athletics stadium.
EEG laboratory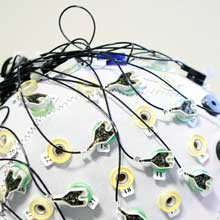 Currently there are three 32-channel EEG systems available in the Institute, which are mostly used when traveling (e.g. the Mars500 study, the CONCORDIA Antarctic station). In addition, the Institute owns a mobile 4-channel Near-Infrared System (NIRS) which can be integrated into the EEG cap.
Based on this, we have the ability to detect a change in neuronal activity even under extreme environmental conditions such as weightlessness, hypergravity and maximum physical exertion.
Exercise laboratory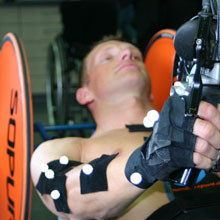 The Institute has extensive equipment to simulate sport specific loads as well as the acquisition of individual physiological stress for physiological performance studies.
The current equipment contains three stationary (ZAN 600) and a mobile spirometry (Cosmed K4b2), three bicycle ergometer (SRM, Ergoline, Avantronic cycle II), a slat-belt treadmill (Woodway; ELG 55) and a measuring station for handcycling athletes.
Before examination, blood tests may optionally be carried out and are analyzed partly on our own (blood gases, blood count, lactate) or in cooperating laboratories. Electrocardiographic measurements are possible to be conducted at rest as well as under stress just as ultrasounds (GE Healthcare; VIVID I BT-09) are or the measurement of resting metabolic rate (Deltatrec). Parts of the equipment are used nationally and internationally for field testing.
Isokinetic Strength Diagnostics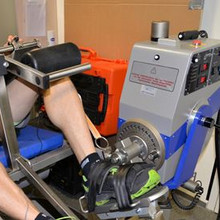 Isokinetic Strength Diagnostics
Two "IsoMed2000" isokinetic dynamometer are the core of our strength diagnostics. One of the base modules can be expanded through additional modules for the diagnosis of the core muscles and the force determination in multi-joint and bilateral leg thrust movements. The synchronous recording of neural control of the drive muscles via a stationary electromyography allows a differentiated assessment of the functional force abilities of nearly every muscle group under standardized and sport-specific contraction conditions.
Athletics Hall

In Fall 1976, the Athletics Hall was completed at the German Sport University. It is not a competition hall as it is of primarily use for teaching, researching, studying and sport clubs (LT DSHS Köln). To carry out teaching and examination contents in studies of athletics, the IAAF Centre (LAZ) is more than adequate equipped.
A grenade launcher with a automatic declineable net to collect all the throwing items
A track with a total length of 140 m for all sprint disciplines and a curve to practice bar change for relay races
A jump range with four high jumps, three long jump and three pole vault systems, a extendable running and jumping ramp as well as a free floor area of ​​20 x 30 m.
Outdoor Athletics Facility

Strength, Endurance and Coordination Training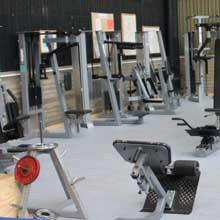 Available for edcuation of "strength training" are a barbell room and a weight-machine-park in the athletics hall. The practice-oriented course "endurance training" is mainly carried out at Cologne's city forest nearby. In the sports overarching course "coordination training", how to develop and improve the coordination of different ages as well as abilities through a variety of games, exercises, and training methods is displayed. For this purpose, the halls are furnished with many methological tools.
Gym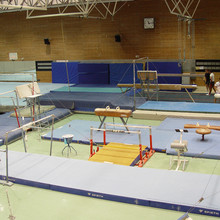 For education of gymnastics, the gymnastic hall No. 21 of the northern halls and halls No. 1 and 2 serve for teaching, research, and competition. Hall 21 is mainly used as a place for student training, although it is equipped as a pure gym for training in competitive sports. Next to a ground area are all olympic gymnastic equipments for men and women that are equipped for training purposes with several soft pits or super soft soils. The elective course, trampolining, is taught here as well. Ceiling structures to mount a lunge, for doubleroaps for example, are plentily avaiable. Furthermore, the teaching lessons are held in halls one and two. These are school gyms, which are equipped in addition to the essential standards, with special equipment for alternative gymnastics. In particular, teacher training and basic courses in the bachelor program are performed here.
Aquatics Centre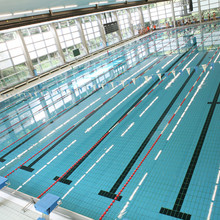 Through the joint efforts of federation, state, and city, the Aquatics Centre could be opened in 1972 by Johannes Rau as a former science minister. In addition to the primary purpose of education and research center for student's education, it is further used as a training venue for Cologne sport clubs. It is also used as the National Training Centre for swimming.
In addition to the large 50m competition pool there is a separate teaching pool with a mobile floor and diving hall. Besides that, another weight room is located in the fitness hall.