Further training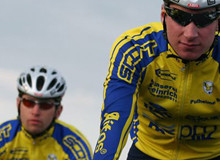 DSHS Bike Instructor Basic
Besides the practical placement of the main driving techniques in the field and on the road, are theoretical issues such as material science, position adjustment, discomfort during cycling, methodology, forms of organization, guiding and safety.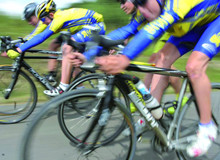 DSHS Bike Instructor Training
This advanced course focuses on cycling training in its many facets. In various implementation-oriented lectures, group work and practical sessions, participants are instructed to design their own training. The disciplines of mountain bike and road are especially treated. The contents in the theoretical part range from workout methodological foundations with training areas, training planning to cycling specific nutrition.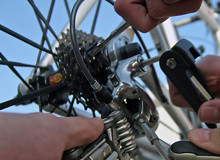 Bicycle Technology Workshop
Adjusting brakes and circuit repairs, control headset, bottom bracket, hubs, lighting ... If you are traveling with groups on the bicycle, be aware of the following problem: The defect of an individual can stop the Group for a long time. With a little knowledge and the necessary steps to make, the most of the technical problems can be quickly solved. Even in schools is the subject of bicycle technology very important, because school bikes have many technical flaws.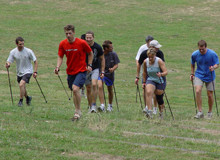 DSHS Nordic Walking Instructor
Full body workout in nature ... This movement form that combines active walking with special poles, involving the whole body and upper body into the movement. This allows an equally gentle as effective total body workout. Nordic Walking is a sport with high growth rates. Both in sports and in the healthcare sector qualifications are needed.