Official Award Ceremony of the German Research Foundation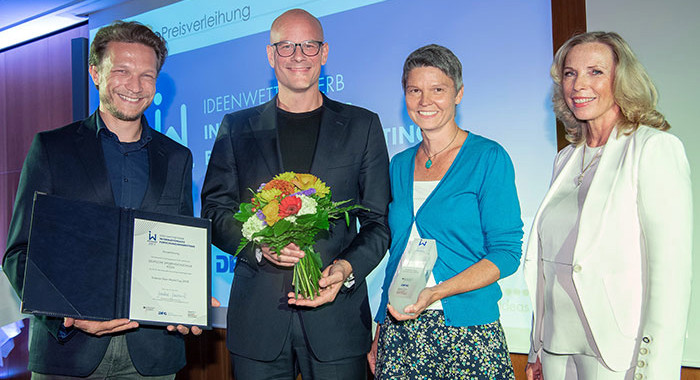 Coming November, the German Sport University Cologne will host the Science Slam World Cup 2018 and invite international scientists to attend. The concept was selected for funding as part of the German Research Foundation (DFG) ideas competition. The official award ceremony took place last week.
As part of the ideas competition, the DFG honoured ideas for international research marketing for the third time. The German Sport UniversityCologne applied with a concept for an international science slam and was able to secure the start-up prize of 75,000 euros.
Prof. Dr. Dr. Stefan Schneider, Vice-President for Knowledge Management and External Affairs, Dr. Claudia Combrink (Department of Research and Junior Researchers ) and Matthias Oschwald (Department of University Marketing) officially accepted the prize at the Federal Ministry of Education and Research in Berlin. It was presented by DFG Secretary General Prof. Dorothee Dzwonnek.
More information about the Science Slam World Cup 2018 can be found at: www.dshs-koeln.de/scienceslam