Spoho Students Ride Into Christopher Street Day!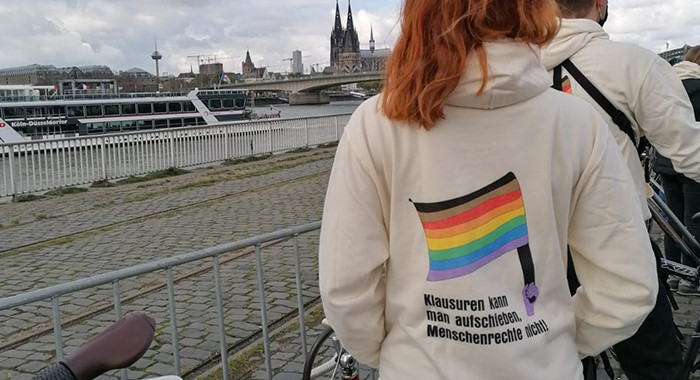 (Quote):
Spoho Students Ride Into Christopher Street Day!
By Dirk Smith
It is no secret that the Covid-19 pandemic has disrupted everybody's plans for 2020. The Spoho's own Gender and Sexualities Alliance (GSA) had a fun summer of events and adventures planned to promote diversity and inclusion at the university. This included taking part in the annual Christopher Street Day Parade and Festival to celebrate pride, inclusion and diversity of lesbian, gay, bisexual, transgender, queer and intersex (LGBTQI) people at the Spoho, Cologne, Germany and throughout the world. Unfortunately, CSD was postponed until the Corona situation would improve.
Well, on the weekend of October 10th, the city of Cologne permitted CSD to take place, albeit on a new and modified format to ensure that social distancing and safety protocols were followed. So, on Sunday, October 11th a diverse group of Sporthochschule students packed up our rainbow flags, put on our bike helmets and rode our bicycles in the first ever Christopher Street Day Bicycle Demonstration to celebrate LGBTQI pride. Our group at the Spoho joined up with other students from universities all around Cologne, including the University of Cologne, Technical University of Cologne, Cologne Music School, Cologne Business School and others as one unified group of students celebrating LGBTQI diversity and inclusion.
To conform to COVID guidelines, all of the people participating in the parade were divided into eight different "mini parades" which started at different areas around the city. The use of bicycles helped to maintain social distancing, and everybody was required to wear masks to ensure minimal risk of transmission. A truck playing fun and upbeat music led each parade as hundreds of sparkly rainbow cyclists ringing bells and waving flags rode through the streets of Cologne toward the riverbank in Deutz. For our unified university group, many of us wore special rainbow hoodies that were printed just for the occasion. Seven Spoho students, the GSA and the AStA took part to represent the Spoho and celebrate the diversity and inclusion of LGBTQI people at the German Sport University.
2020 certainly has been a challenging year, and with quarantine and social distancing, it's been difficult to connect with our classmates and fellow students, so the CSD Bike Parade was just what we all needed to bring some fabulous cheer into our lives as we get ready to begin the next semester of our studies. Happy Christopher Street Day everybody!