Institute of Psychology
As one of 19 institutes of the German Sport University Cologne, the Institute of Psychology specialises in research on performance and social psychology.
The Institute's two departments, Health & Social Psychology and Performance Psychology, cover a wide field of both fundamental and applied research. A main focus of the research is the use and further development of experimental paradigms. The research is conducted in part in international work groups, which are dedicated to persons, associations, communities and institutions at all levels and include exchange programs for students, European doctoral students and researchers.
In addition to research, the Psychological Institute focuses on the development and implementation of diagnostic and intervention options for various target groups (including athletes, trainers, referees, managers, clinical staff, competitive athletes, patients and people with physical and mental disabilities). The Service Centre for Diagnostics and Intervention (MoveMent) forms the interface between the research of both departments at the Institute and the practical application of these developments. MoveMent concerns different fields of application and target groups.
The Psychological Institute teaches about 2,000 hours of classes annually. The focus is on the Bachelor's and Master's programs of the German Sport University Cologne and on teacher training. The Institute is also involved in the doctoral studies programmes. The contents of the curriculum focus mainly on general psychological and sport psychology topics, research methods and diagnostics and intervention in English and German. Various service facilities for sport-related psychological care of athletes (MoveMent, MentalTalent, MentalGestärkt (MentalStrengthened)) provide an interface between research and application.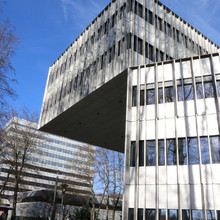 Department I: Health & Social Psychology
Department II: Performance Psychology