Institute of School Sport and School Development
The Institute of School Sport and School Development of the German Sport University Cologne has dedicated its teaching and research to the development of school sport and the qualified pedagogic and didactic training of sport teachers for all teaching positions.
Aspects of school development such as the promotion of health and exercise in schools and the promotion of movement culture during childhood and youth are taken into account. Research projects relate to the quality of physical education and P.E. training, to the school culture in health- and movement-promoting schools and to curricular aspects of sport as a school subject.
In the learning workshop, students can develop their qualification projects and work on questions with special guidance and support.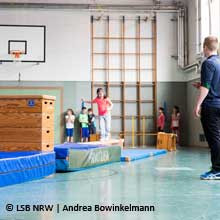 Department I: School Development
Department II: School Sport