Deutschlandstipendium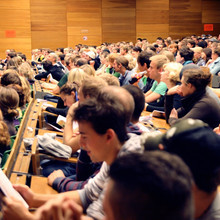 Funding is awarded to applicants whose previous careers indicate that they can expect good academic performance or professional success. Objective performance criteria and grades as well as personal circumstances are taken into account.
In addition, the following criteria, among others, are decisive:
Studying under difficult conditions such as illness, disability or special family obligations (children, care of a close relative)
Studying as a competitive athlete
Studying with a refugee/migration background with German as a foreign language
Studying as an international student
Studying as an educational climber/advancer (educational upward mobility)
Other aptitudes, social or voluntary commitment and special personal achievements, such as the successful overcoming of obstacles in one's own educational biography
Motivation
In addition to high-performing students, the German Sport University especially invites students who study under difficult conditions to apply for funding. Furthermore, the German Sport University expressly welcomes applications from women and students with special conditions (e.g. migration background, educational advancement) in terms of equal opportunities and gender justice.
Students enrolled at the German Sport University who still need at least two semesters to complete their studies as well as those who still want to enrol at the German Sport University can apply for funding. Eligible for funding are first, second or postgraduate studies in a Bachelor's, Master's, Master of Advanced Studies or Teacher Training Course at the German Sport University. Prerequisite is the first enrolment at the German Sport University. Unfortunately, second enrolments / guest students and doctoral students cannot apply.
If the applicant already receives governmental funding such as BAföG, this does not prevent him or her from being awarded a "Deutschlandstipendium".
See the guidelines here.