Completed PhDs
Jan Hangebrauck 2018
"No normal sport in an abnormal society." Wahrnehmungen und Wechselbeziehungen staatlichen und zivilgesellschaftlichen sportbezogenen Protests gegen das Apartheid-Regime in Südafrika zwischen 1956 und 1992"
Period of Research:2013-2018
Date of Graduation: 17.7.2018
Second corrector: Prof. Dr. Stefan Berger
Publication in progress
This work belongs to the academic field of transnational history and examines how sport-related protest in South Africa, but also international protest – by the example of the Federal Republic of Germany, the German Democratic Republic and Great Britain - had an impact on this regime as well as on politics and society of the investigated countries.
This subject has not yet been investigated as it is difficult to find direct indicators for the impacts of protest. It is however undisputed in research that the sport-related protest led to a liberation of apartheid regulations. Its influence on the end of the apartheid regime in total, however, remains unclear and controversial.
On the one hand, the sports boycott is considered the most effective sanction in combating the apartheid regime. On the other hand, sport is said to have only a slight influence on the change of social deficits.
Object of this dissertation will be to weigh the different perspectives against each other in order to develop an own theory with regards to the impact on sport-related protest on the end of apartheid.
Diana Wendland 2018
Der alternative Reiseführer: Formate, Visualisierungen, Narrationen. Eine mediengeschichtliche Untersuchung von Para- und Basistexten zwischen 1970 und 1985.
Period of research: 2014 2018
Date of graduation: 13.7.2018
Second corrector: Prof. Dr. Christopher Kopper
Publication in progress
Since the origin of the tourism in the 19th century modern tourists have been consuming certain "sights" on their journey: With the cultural studies by Ueli Gyr and John Urry this symbolic consumption was considered as an essence of modern tourism. Younger cultural-historical studies have examined these gazes in detail. They mostly have analyzed changes in the (visual) symbolic consumption in different phases of tourism development – especially from the middle-class tourism of the 19th century to the mass tourism of the 1960s and 1970s. The findings of these studies have shown that the romantic gaze of the bourgeoisie was replaced by a collective, sociable gaze of the mass tourism. However, these studies have not examined the tourist gaze of alternative tourism in the 1970s and 1980s.
The planned doctoral thesis will analyze the "alternative" gaze using alternative travel guides as "a visual school" (Müller 2012). The research question aims at asking whether an alternative gaze can be identified in alternative travel guides and whether such an alternative gaze can be characterised by the dichotomy between "romantically" and "sociably". It will be shown in how far the analysis of alternative travel guides can be useful for the (media)-culture history of tourism, but also for the history of the alternative environment or for contemporary historical research about the decades "after the boom".
Publications:
Arbeiter und Sport im Spannungsverhältnis von Solidar-, Betriebs- und "Volksgemeinschaft". Politische Aufladungen und Brüche des Arbeiter- und Werkssports in den 1930er Jahren, in: Marwart Herzog (Hg.): Die "Gleichschaltung" des Fußballsports im nationalsozialistischen Deutschland (Irseer Dialoge, Bd. 20), Stuttgart 2016, S. 211-241 (mit Jürgen Mittag).


Zwischen Tradition und Innovation: Die Rolle von alternativen Reiseführern in der touristischen Medienlandschaft, in: Kornelia Hahn/Alexander Schmidl (Hg.): Websites & Sightseeing. Tourismus in Medienkulturen, Wiesbaden 2016, S. 183-204.


Freizeitsport – Sport und Bewegung in der Freizeit, in: Renate Freericks/Dieter Brinkmann (Hg.): Handbuch Freizeitsoziologie, Berlin 2015, S. 385-414 (mit Jürgen Mittag).


"Nach der Arbeit ist gut ruh´n … doch besser ist´s durch Sport was für den Körper tun". Betriebssport im nationalsozialistischen Köln, in: Stephan Wassong/Ansgar Molzberger/Gabi Langen (Hg.): Siegen für den Führer. Der Kölner Sport in der NS-Zeit, Köln 2015, S. 66-99 (mit Jürgen Mittag).


How Adventurers Become Tourists: The Emergence of Alternative Travel Guides in the Course of Standardisation of Long-Distance Travelling, in: Comparativ 24 (2014) Heft 2, S. 36-51 (mit Jürgen Mittag).
Dopingbekämpfung durch die Hintertür? Die Anfangsphase der EU-Antidopingpolitik zwischen inkrementeller Konstitutionalisierung und diskursiver Kommunikation, in: Eberhard Meinberg/Swen Körner (Hg.): Doping – kulturwissenschaftlich betrachtet, St. Augustin 2013 (Reihe Brennpunkte der Sportwissenschaft), S. 79-100 (mit Jürgen Mittag).
Zwischen Konsum- und Stilhistoriografie: Perspektiven der Tourismusforschung als Gesellschaftsforschung. Till Manning: Die Italiengeneration. Stilbildung durch Massentourismus in den 1950er und 1960er Jahren, Göttingen: Wallstein-Verlag 2011, in: Moving the Social – Journal of Social History and the History of Social Movements 47 (2012), S. 227-231 (mit Jürgen Mittag).
Zwischen Individuum und Typus: Die deutschen sozialdemokratischen Abgeordneten des Europäischen Parlaments (1952-2011) in kollektivbiografischer Perspektive, in: Mitteilungsblatt des Instituts für soziale Bewegungen 45 (2011), S. 205-246 (mit Jürgen Mittag).
Putzmann, Ninja 2017
Das sportpolitische System Spaniens - Eine theoretisch-empirische Analsyse von Akteuren, Outputs und Entwicklungslinien
Period of research: 2012 2017
Date of graduation: 19.9.2017
Second corrector: Prof. Dr. Ilse Hartmann-Tews
Publication in progress

In the European area numerous journals and articles offer an overview about the development of national sport policies, describe the institutional structures of sport, organizational and financial framework conditions. Nevertheless, empiric-analytic nation studies to explain correlations between sport structures, processes and contents are missing as well as an theoretical fundament to analyse sport systems.
Deriving from the central question for the characteristic sport-political structures, processes and contents of the Spanish sport system three subordinated goals are defined: First the investigation of the theoretic-conceptual level by an adaption of the political scientific system theory including the terms of sport polity, sport politics and sport policy for the sport system of Spain as well as the effects of Europeanisation. On the typological level theoretically funded categories or typologies are developed to analyse the Spanish sport system. Focusing on some exemplary regions, the applicability of those typologies is empirically tested. Third the empiric-analytic level is examined by sequencing and summarizing of new and existent data about the Spanish sport system respecting special characteristics of single regions of Spain to relate sport political structures, processes and contents.
Perspectively, the elaborated categories can be used to enable a comparison of distinguished European sport systems what implies a certain degree of generalization to this paper.
Risse, Gunnar 2017
Funktionale Institutionen-Bildung in der Anti-Dopingpolitik der Bundesrepublik Deutschland: Akteureinflüsse, Akteurkonstellationen, Akteurinteraktionen
Period of research: 2012-2017
Date of graduation: 6.9.2017
Second corrector: Prof. Dr. Henk-Erik Meier (Uni Münster)
Publication in progress

The dissertation uses the theoretical and methodological instruments of political science to deal with the developments in the fight against doping in Germany, beginning in 1990. While findings from applied economics, sociology and history are taken as a starting point, the main aim of the analysis is to describe and understand the relationship and goals of different actors in the field of anti-doping-policy, using the framework of actor-centered institutionalism. To explain the influence of single actors, the project refers to a multi-dimensional theory of power. In addition, key ideas from political network-analysis, Tsebelis' thoughts on veto-players and some basic components of the principal-agent-approach are taken into consideration.To gather information about the object of investigation, the study uses content-analysis as well as semi-structured guided interviews with policy-makers and decision-makers from sport organisations. It is the purpose of the study to systematically describe past developments, understand the current situation and develop different scenarios for the future with regard to their likeliness.
Ziesche, Daniel 2017
Organised Sport in Transition: Social and Cultural Functions of Football Clubs in England and Germany
Period of research: 2012 bis 2017
Date of graduation: 14.7.2017
Second corrector: Prof. Dr. Klaus Stolz (TU Chemnitz)
Publication in progress
The various processes of transformation which shape modern societies (globalisation, individualization, urbanisation to name just a few), present sport clubs with critical challenges in regard of their future development. Likewise, the self-proclaimed functions which sport clubs traditionally fulfilled are being increasingly questioned. The central question to the project at hand is, which functions football clubs as a specifically interesting form of sport clubs fulfill for, or within, the societies of England and Germany. The analysis will focus on three levels, the political, the social and the cultural. The main questions the project intends to answer are: In how far do politics take influence on the societal role which football clubs ought to play? How do football clubs cope with transformations and developments in their surrounding or, in how far do football clubs themselves shape those developments (social structure, regional differences)? Which role do football clubs fulfill within the process leading to the constitution of community? In how far do football-clubs contribute to the formation or evolvement of a specific cultural identity (of a city/town, a borough, a community) beyond fan identities? Thereby, the comparative project design draws on methods and theories from both the political and social sciences as well as cultural studies and regional studies including sociological institutionalism, civil society approaches, new regionalism and social capital theory .
Fischer, Christoph 2017
"Interessenvertretung im Sport zwischen Kooperation und Konflikt – Das Verhältnis von Staat und Sport in Deutschland und Frankreich"
Period of research: 2009 until 2017
Date of graduation: 11.5.2017
Second corrector: Hon.-Prof. Dr. Georg Anders

Publication
The fundamental question of research concerns the similarities and differences between the German and the French sport system referring to the cooperation and the reciprocal understanding of governmental and non-governmental institutions of sport administration and aims on defining their characteristics. The empirical proceeding is based on an analysis of the legal foundations of each system. This includes statutes, regulations, statutes of clubs and federations, target agreements and other bilateral settlements as well as the structures and construction of each sport system and interrogations of experts and representatives of governmental and non-governmental institutions of Germany and France. The paper aims to extend and refine the existent structural and political comparisons in sport sciences. Against the backdrop of political science approaches of pluralism and neo-corporatism, the results of the empirical research will be discussed with a special focus on the features of sport as a sector of the society.
Lippmann, Karsten 2017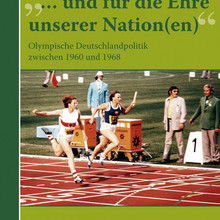 "… und für die Ehre unserer Nation(en)": Olympische Deutschlandpolitik' zwischen 1960 und 1968
Period of research: 2012 until 2016
Date of graduation: 19.1.2017
Second corrector: Prof. Dr. Manfred Lämmer (DSHS)
The thesis deals with the sports policy of both German states during the years 1960 to 1968. It is looked at as part of the intra-German policy. For this reason the thesis focusses on Olympic subjects.To describe adequately what was going on in this years, Kleßmanns concept of asymmetric intertwined parallel history is extended with elements of the theory of dynamic transaction that was developed by Früh to describe the effects of media.The concept of dynamic intertwined history of communication, which emerged this way, gives us the opportunity to look at the eight perhaps most eventful years of German sports history and to see it as a result of intersecting actions and reactions.The first goal on this process was to gain influence on the I.O.C. Both German states were successful in this respect. The FRG became the Olympic host in 1972, and in Munich the GDR received the right to use their own national symbols during the summer games for the first time.This graduate thesis describes the way that led to this solution, which satisfied both sides, but made neither of them really happy.
Biermann, Marie 2016
Opportunities and Limitations of Youth Sport Programs in Cape Town: Analysis of Determinants in the Context of Development and their impact on Research
Period of research: 2012 until 2016
Date of graduation: 19.12.2016
Second corrector: Prof. Dr. Bart Vanreusel (KU Leuven)
The research project was embedded in the broader field of sport-for-development and was located in Cape Town, South Africa in two different projects. Both projects aim at life-skill development but are different in structure and program. The research takes place while the intervention is still ongoing, with the data being collected from February till July 2013 and February till July 2014. The projects are not only being analyzed in terms of their effectiveness and processes with regard to life-skill development, but also concerning the methods used for evaluating the interventions. What are the effects of sport-based life-skill programs on youths? How do these effects come about? Which processes underlie them? What conditions are necessary for sport-based life-skill programs to have beneficial outcomes? In order to answer these questions two qualitative methods, the 'Most Significant Change' method and participant observation, are applied, as well as quantitative approaches. All of them are used complementary to assure triangulation increasing reliability and validity of measures, and also getting insights into the same sociological phenomenon from different perspectives. Is there a difference in the appropriateness of the methods used to identify processes? Is there a difference in the appropriateness of the methods concerning the different projects and programs? The methods themselves are also analyzed concerning their useful application in different programs and fields. So far, the MSC-method and participant observation have successfully been applied in areas outside sport and imply a potential for innovations in the area of monitoring and evaluating sport-in-development projects.
Schädler, Timo 2016
Integration in Sports Clubs: Development of a social science-based Quality Management Model
Period of research: 2013 until 2016
Date of graduation: 12. April 2016
Second corrector: Prof. Dr. Christoph Breuer (DSHS)
timo.schaedler@­specialolympics.de
This thesis intends the development of a social science-based QM-Model for integration processes in Sports Clubs. Applications are explained in a functional context. The work study aims to contribute to a topical and problem-related interdisciplinary discourse of political science, sociology, education and business administration in the overall context of sports science. The objective is to develop a systematic theory-based QM-Model, that helps to visualize and realize integration processes in a sports club and beyond it to areas of society. The heterogeneity of the sporting sector with its different orientation and directions of integration policies encourage the development of a model that can meet these requirements at an appropriate level of abstraction. The development of the QM-Model for integration is carried out in close context of theoretical foundation and practical relevance.
Bellinghausen, Mathias 2015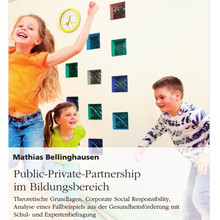 Struktur- und Funktionsanalyse von Corporate Social Responsibility-induzierten Public-Private-Partnership-Modellen im Bildungsbereich anhand der Schulsportförderung 'Fit am Ball'
Period of research: 2008 bis 2015
Date of graduation: 7.7.2015
Second corrector: Prof. Dr. Daniel Memmert (DSHS)
Weinberg, Ben 2014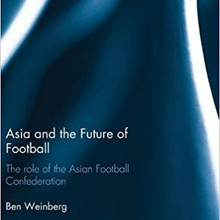 Asia and the Future of Football: The Role of the Asian Football Confederation
Forschungszeitraum: 2010 bis 2013
Tag der Disputation: 7.02.2014
Zweitkorrektor: Prof. Dr. Fan Hong (University of Glasgow)
Further Publications:
Weinberg, Ben: Asia and the Future of Football: The Role of the Asian Football Confederation, Oxford 2015.
Weinberg, Ben: "The Future is Asia"? The Role of the Asian Football Confederation in the Governance and Development of Football in Asia, in: The International Journal of the History of Sport 2012, S. 535-552.