Bourgeois and Trade Unionists: Ludwig Rosenberg
Head of the project at IESF:
Prof. Dr. Jürgen Mittag

IESF staff entrusted with the project:
Dr. Frank Ahland

Period of research:
2011 - 2015

Funding:
Hans-Böckler-Foundation

Content:
The research project is anchored in the area "work and leisure studies" and blends into the shortly recorded upswing of trade unionist biography which may broaden the knowledge of the trade union's elite in general and inform about trade union history in Germany. In line with this, the project is devoted to the biography of Ludwig Rosenberg.
Although the project is mainly a political, organisational and socio-historical biography one, it contributes to the debate about underlying tendencies of the economic, social and political development of West Germany in the post-war period. Also known as "westernisation" this development has been applied to unionist history as well.
The biography investigates political problems of the unionists from the 1940s to the 1970s, their scope of action, their internal structures and external relationships and the changes of the union's societal stance in this period. Finally, it inquires how Rosenberg can be ranged in the trade unionist elite. Of specific interest for IESF's academic research is the "European role" of Ludwig Rosenberg since he was deeply rooted in several European networks (among others the Monnet's Action Committee) on the one hand and the discussion about work and leisure at that time in which Rosenberg was engaged on the other.
Rosenberg's biography conveys deep insights into the internal structures of the umbrella organisation of the unions, the relations between chairpersons of single unions and the president of the federal committee and the organisation of political culture of unions. The final result of this project will be the publication of a biography issued in the end of 2015.
Publication
Frank Ahland: Bürger und Gewerkschafter – Ludwig Rosenberg (1903 bis 1977). Eine Biografie (Veröffentlichungen des Instituts für soziale Bewegungen, Reihe A: Darstellungen, Band 61), Essen: Klartext-Verlag 2016, ISBN: 978 3 8375 1272 4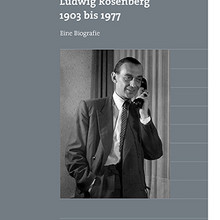 Book presentation:On Thursday, 1st. September 2016, Frank Ahland's book "Der Bürger und Gewerkschafter Ludwig Rosenberg (1903 bis 1977) will be officially presentated in the Bochum at the Haus der Geschichte des Ruhrgebietes. The presentation starts at 6.00pm, the entrance is free.